Gift Guide: For the Graphic Tee Lover

GIFT GUIDE: FOR THE GRAPHIC TEE LOVER
---
Ella, the face behind Ella Kathryn, is just your average girl in her mid twenties trying to transition in the most in-between stage of life. She's a full time accountant, but when I'm not working in corporate America she's blogging about all things fashion, beauty, wellness, and life. You can find her on Instagram at @ellakathrynnn. We're so excited to have her showcase her favorite graphic tees from Social House!
Graphic Tees. One of the best gifts to receive and one of the easiest and yet most thoughtful gifts to give. Everyone loves a good graphic tee and I know just the place that has the cutest designs and the best tees and sweatshirts for all the lovely ladies on your shopping list: Gameday Couture x Social House boutique!
They have the cutest graphics printed on high quality shirts that your friends and family will love. And the best part? They have something for everyone! I am sharing some of my favorites below by category so you can find the perfect gift. Just scroll through to shop for your homebody girlfriends, your fit friends, and your encouraging gal pals! The last category is probably my favorite because I had the honor of designing a t shirt with the Social House design team and it fits perfectly in this category. Keep reading to see my "Be the Sunshine" t-shirt!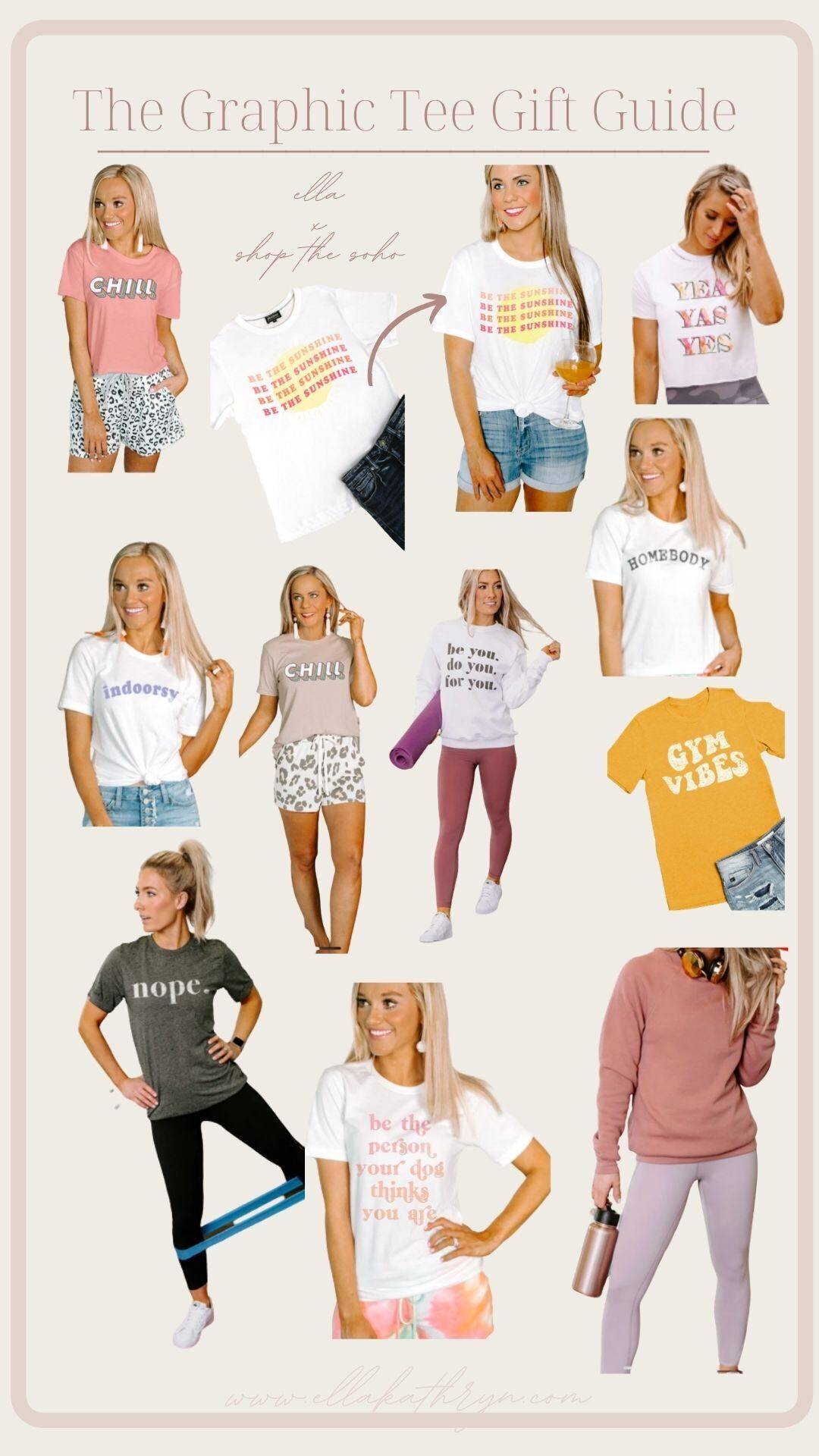 ---
Ladies Who Lift You Up
For the women who are always there to lift your spirits and encourage you on this crazy roller coaster we call life. Gift them a sweet graphic tee to go along with their sweet personalities because sometimes even the encouragers in our lives need some encouragement!
---
Fit Fam
For your friends and family who can't get enough of those workout endorphins! Make sure they have a cute graphic to go along with their muscles!
---
Homebody Girlfriends
For the ladies who love to snuggle up at home and just relax in their fave graphic tees! Shop these links directly here:
---
SHOP ELLA KATHRYN'S EXCLUSIVE GRAPHIC TEE: